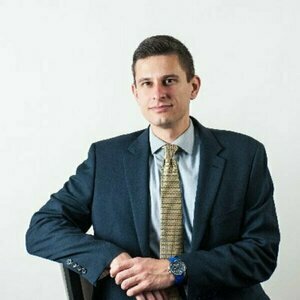 Mark Temnycky
Special guest
Mark Temnycky is an accredited freelance journalist covering Eastern Europe, and has been published widely. Mark also guest lectures on Eastern European affairs to various U.S. universities. He was a recipient of the Ukrainian World Congress' inaugural "Ukrainian Diaspora 30 Under 30" award. His full portfolio can be found on his website https://wakelet.com/@MTemnycky.
Mark has a Master's Degree in Public Administration and a Master of Arts Degree in International Relations from the Maxwell School at Syracuse University. He earned a Bachelor of Arts in History, with Departmental Honors, from Le Moyne College. Mark works and resides in Washington, DC.
Some of Mark's pieces regarding Nord Stream 2 can be found at the following links:
Wilson Center, March 2021, Security Implications of Nord Stream 2
https://www.wilsoncenter.org/blog-post/security-implications-nord-stream-2-ukraine-poland-and-germany
Wilson Center, July 2021, Tangled Interest of Nord Stream 2 for Germany, Poland, and Ukraine
https://www.wilsoncenter.org/blog-post/nord-stream-2-and-tangled-interests-germany-poland-and-ukraine?utm_medium=email&utm_source=update&utm_campaign=ki&emci=5fd20b07-4fe3-eb11-a7ad-501ac57b8fa7&emdi=2817e907-52e3-eb11-a7ad-501ac57b8fa7&ceid=81877
Emerging Europe, July 2021, Ukraine and Poland Should Not Give Up on Nord Stream 2
https://emerging-europe.com/voices/ukraine-and-poland-should-not-give-up-on-nord-stream-2/
New York Times, August 2021, Zelensky Must Tell Biden to Stope Nord Stream 2
https://www.nytimes.com/2021/08/30/opinion/biden-zelensky-nord-stream-2.html
Mark Temnycky has been a guest on 1 episode.
November 22nd, 2021 | Season 4 | 27 mins 27 secs

Mark Temnycky, a Ukrainiain-American journalist, breaks down the Nord Stream 2 issue, timeline, and its relation to the energy situation in Europe. He expounds on the Biden administration's reversal on its position concerning the pipeline, and explains the security concerns that a working Nord Stream 2 that bypasses Belarus and Ukraine creates for America, NATO, and Europe in general. Thanks for listening!