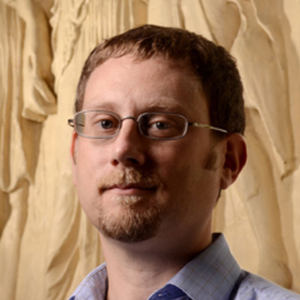 Adam T. Rabinowitz
Special guest
Adam Rabinowitz is an Associate Professor in the Department of Classics and Assistant Director of the Institute of Classical Archaeology at The University of Texas at Austin. He holds his PhD (2004) from the Interdepartmental Program in Classical Art and Archaeology at the University of Michigan, where he wrote a dissertation on the role of communal wine-drinking in political and social interactions in the colonial Greek world. He is a 2002 Fellow of the American Academy in Rome and a field archaeologist with twenty-five years of archaeological field experience at Greek, Roman, and Byzantine sites in Italy, England, Israel, Tunisia, and Ukraine. His archaeological research focuses on daily life, domestic architecture, commensal practices and the lived experience of culture contact. He has also published on more historical questions of political organization and competition in the early Greek world. He also has a longstanding interest in the use of digital platforms for archaeological documentation and publication, which began during his work at the Roman site of Cosa in the 1990s and intensified in the course of excavations in the South Region of the Greek, Roman, and Byzantine site of Chersonesos in Crimea in the mid-2000s. Since then, in the course of his preparation of the South Region excavations for publication, he has begun to work on questions of long-term archival preservation and on the digital dissemination of rich contextual datasets.
He is also involved in several digital humanities projects related to the linking and visualization of information about the Classical past, including Pleiades (http://pleiades.stoa.org), a spatial gazetteer of ancient places; GeoDia (http://geodia.laits.utexas.edu), an interactive spatial timeline of Mediterranean archaeology; Hestia2 (http://hestia.open.ac.uk/), a narrative time-map of the Histories of Herodotus; and PeriodO (http://perio.do), a gazetteer of scholarly definitions of archaeological, historical, and art-historical periods funded by the National Endowment for the Humanities and the Institute of Museum and Library Services.
Adam T. Rabinowitz has been a guest on 1 episode.
February 19th, 2020 | Season 2 | 37 mins 17 secs

ancient peoples, archaeology, crimea, histria, romania, time travel, tombs

On this episode, we have the privilege of speaking with a modern-day archaeologist Dr. Adam Rabinowitz and archaeology grad student Susan Crane. Both take us into the ancient world of Histria through their exciting (and sometimes not-so-exciting) archaeological expeditions and unbelievable discoveries.