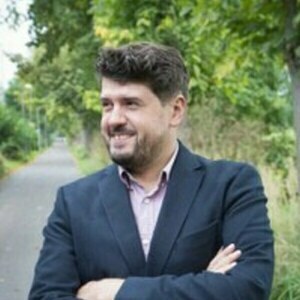 Alexander Chertenko
Special guest
Dr. Alexander Chertenko, born in Kyiv (Ukraine) in 1980, is a German-Ukrainian literary and cultural scholar, Slavic scholar, and comparative scholar and currently works at the Justus Liebig University in Giessen. In his research he deals with Ukrainian, Belarusian, and Russian literature and culture from the 19th to the 21st century, in particular with revolutions, wars, and identity conflicts in the post-socialist space. He has been living in Germany since 2015.
To learn more about UNDIPUS check out the project's website for more on the principal investigators and the individual subprojects: https://slawistik.uni-greifswald.de/mitarbeitende/lehrstuhl-fuer-ukrainische-kulturwissenschaft/projekte/
Alexander Chertenko has been a guest on 1 episode.
July 8th, 2023 | Season 5 | 41 mins 45 secs

culture, history, literature, teaching, ukraine war

On this episode, Lera and Misha sit down with Dr. Alexander Chertenko, a professor of Ukrainian literature at the University of Giessen in Germany. Dr. Chertenko is uniquely positioned to trace the wartime development of Ukrainian literature in the country since 2014. He also illuminates the usually underdiscussed topic of literature in Donetsk and Luhansk oblasts from 2014 until Russia's full-scale invasion on February 24, 2022. Thank you for listening!