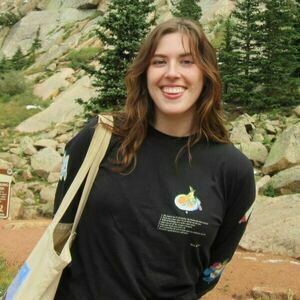 Eliza
Co-Host of The Slavic Connexion
Eliza is a first-year graduate student in Russian, East European and Eurasian Studies at UT, returning to CREEES (and the podcast!) to continue the research she began as an undergraduate with the department. Her research interests include conceptions of prestige and belonging in cultural spaces, the malleability of white identity, and the co-optation of origin stories and myth as a rhetorical strategy. Outside the department, she practices Krav Maga, reads a lot of science fiction, tries to get people from the department to hang out with her, and spends time with her cat, Raskolnikov.
Eliza has hosted three Episodes.
November 23rd, 2022 | Season 5 | 27 mins 54 secs

humanitarian aid, hungary, united states, world war i

On this episode, Friederike Kind-Kovács visits with us in Austin, Texas, to talk about her latest book which explores the ways in which migration, hunger, and destitution affected children's lives, casting light on their particular vulnerability in times of distress.

October 14th, 2022 | Season 5 | 48 mins 9 secs

canada, eastern europe, history, hockey, olympics, putin, soviet union, sports

On this episode, Eliza talks with sports historian Bruce Berglund who shares his expertise on the global development of hockey, the rise of the sport in Eastern Europe and the Soviet Union and its role in the expression of national identity on the international stage. Thanks for listening!

March 7th, 2021 | Season 3 | 44 mins 15 secs

far right, fascism, global conversations, social media, white nationalism

On this special episode, we have renowned expert on far right youth movements, Dr. Cynthia Miller-Idriss who joins us courtesy of UT's ISPRII (https://isprii.la.utexas.edu/). ISPRII guest host Eliza talks with Dr. Miller-Idriss about her research and latest book, Hate in the Homeland: The New Global Far Right. This is a fascinating episode on a very critical topic for the international community, and we hope you enjoy!