Wrapping up our ASEEES conference series, we have a super fun couple's episode with the dynamic duo of Alexander Prokhorov and Elena Prokhorova from Moscow State University who talk about their personal journeys and how they ended up at teaching at College of William & Mary.
THE GUESTS:
Elena Prokhorova and Alexander Prokhorov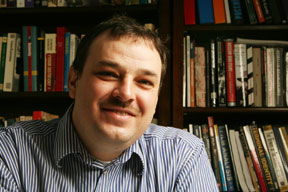 EDITOR'S NOTE: Episode recorded during the 2019 ASEEES Conference in San Francisco, California.
Thanks for listening and if you like this show and support open academic programming, please take a second to rate the show on Apple Podcasts, TuneIn, or on our Facebook page. We so appreciate your support!!
CREDITS
Co-Producer: Tom Rehnquist (Connect: facebook.com/thomas.rehnquist)
Co-Producer: Matthew Orr (Connect: facebook.com/orrrmatthew)
Associate Producer: Samantha Farmer
Associate Producer: Lera Toropin
Associate Producer: Cullan Bendig
Supervising Producer: Kathryn Yegorov-Crate
Executive Editor/Music Producer: Charlie Harper (Connect: facebook.com/charlie.harper.1485 Instagram: @charlieharpermusic, www.charlieharpermusic.com)
Executive Producer & Creator: Michelle Daniel (Connect: facebook.com/mdanielgeraci Instagram: @michelledaniel86, www.msdaniel.com)
Follow The Slavic Connexion on Instagram: @slavxradio, Twitter: @SlavXRadio, and on Facebook: facebook.com/slavxradio . Visit www.slavxradio.com for more episodes and information.
EXECUTIVE PRODUCER'S NOTE: A special thanks to the Center for Russian, East European, and Eurasian Studies for the financial support necessary to take the SlavX team to San Francisco for the multi-day convention. In just a few days, four hosts completed an amazing 18 interviews with unique guests from all over the world. Most of these will be made available on the podcast. Thank you also to the conference directors and staff at ASEEES for being so accommodating and helping SlavX staff find rooms to use as recording spaces. Additional thanks to Professor Craig Campbell at UT for inspiring our supervising producer with the idea to attend the conference and to SlavX team members Katya and Samantha for taking the trouble to apply for travel funds during the busiest time of the semester for grad students. Their initiative is nothing short of amazing to me, and hopefully everybody appreciates their efforts as much as I do. We hope you all enjoy these exclusive interviews!!
Disclaimer: The Slavic Connexion is not in any way affiliated with or supported by ASEEES and does not represent the association or otherwise explicitly endorse ASEEES' values or views.